The truth of the matter is that I would not actually need to shop for fabric ever again and I would still not be able to use up my stash in my lifetime. But...hey...has that ever stopped me before?! I have to admit that the virus lockdown has put a definite cramp in my usual fabric shopping style, but I have done my part to keep our online fabric establishments going. The tricky part is not being able to fondle the fabric before plunking down for it. Example:
I saw these floral print pants in the JJill catalog this spring. At the time it was miserable and cold outside and they felt sooooo summery. I thought I should make a pair! If you have followed my sewing adventures for any amount of time, you probably realize that loud floral prints do not make their way into my stash very often. (mud colored, monochromatic prints, yes, florals? not so much) With this picture in mind I went out on the 'interweb' to find the fabric.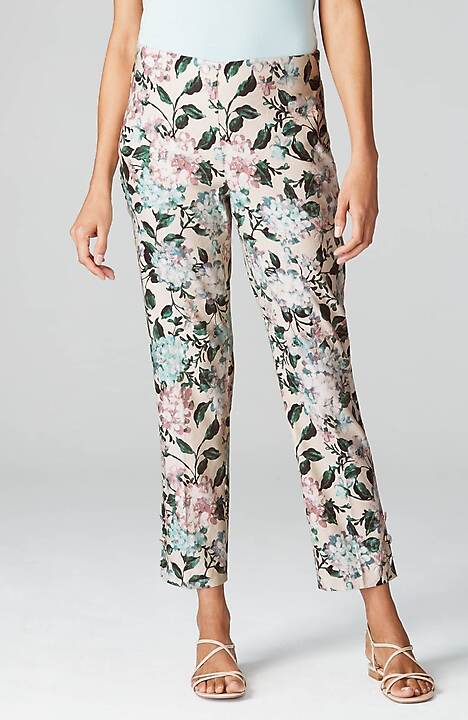 Since I haven't done a lot of online fabric purchasing, I wasn't quite sure where to start, and once I started, finding places that would be able to send it before next spring was a bit tricky. I have had some lovely pieces from Marcy Tilton in the past, so that's where I landed.
I knew the fabric would need a bit of body to handle the style of the pants, but, without being able to touch the material it was really difficult to know. I opted for a tropical-ish print in linen. I figured linen might have the hand I was looking for. The description also told me that this would be a nice fabric for pants...OK...send me 2 yards!
You can probably guess that when it arrived it was absolutely lovely...for palazzo pants, maybe...but definitely NOT for the style I was coveting in JJill. It is linen, but it must have a touch of rayon as well because it is drapey and swishy and light and airy....nothing like I had in mind.
I washed it and it got even more swishy! Hmmmm, I folded it neatly and added it to the stash!
Fast forward a few weeks....
I came across this pattern....
I got it when it was first released ??? years ago. I have looked at it any number of times but have never gotten around to making it up. The idea of a 'french house dress' for hanging out at home sounded appropriate...AND, what do you know? I just happened to have a really swishy linen and rayon print that would be perfect! Voila! Ici my french house dress!
At this point I think I will call it a win for the summer wardrobe and go ahead and order up the pants from JJill...if they haven't sold out already!!!😏